Recent News

A PBusardo Review & Contest – Some Sub Ohm Tanks
Sorry, some of the audio is over-driven in this video.
In this video we get into and take a look at several different sub-ohm tanks currently on the market including:
The Aspire Atlantis 2
The Eleaf Lemo
The FreeMax Starre
The Horizon Tech Arctic
The Innokin iSub
The Smok VCT
The Smok VCT-Pro
Is this all of the sub-ohm tanks currently on the market?  No.  And as I type this I'm sure another 10 of them have been released.
We wrap it all up up with a new contest.
From Dr. Farsalinos…
If you consider that a regular vaper consumes on average 4mL per day, the 20 or 30mL range can only be characterized as extreme. And as everything extreme, it cannot be good. Imagine someone drinking half gallon of water and another drinking 10 times that. Water is good, but not at quantities 10 times higher than average!!!

The reasons are many: flavors have unknown properties when inhaled, even VG and PG have unknown properties when inhaled on a daily basis. At low quantities we expect the risk to be minimal, but 20 or 30mLs are extreme quantities and we do not know what will happen. We always say that it is not the chemical but the amount that defines toxicity. I consider vaping 30mL per day an extreme amount. It is definitely much worse than vaping 4mL per day.

We know that e-cigarettes contain few toxic chemicals. The more you vape, the more you get.

If you remember, i told you during our meeting that subohm vaping concerns me not because of the high wattage but because i have not seen anyone doing subohm and consuming less than 10mL of liquid.

Taking the opportunity, i will make my first aldehyde measurements at subohm vaping in early May.
The Links:
Aspire
Eleaf
FreeMax
Horizon Tech
Innokin
Smoktech
The Video:

The Table (This has been cleaned up a bit post review – click it for full size ):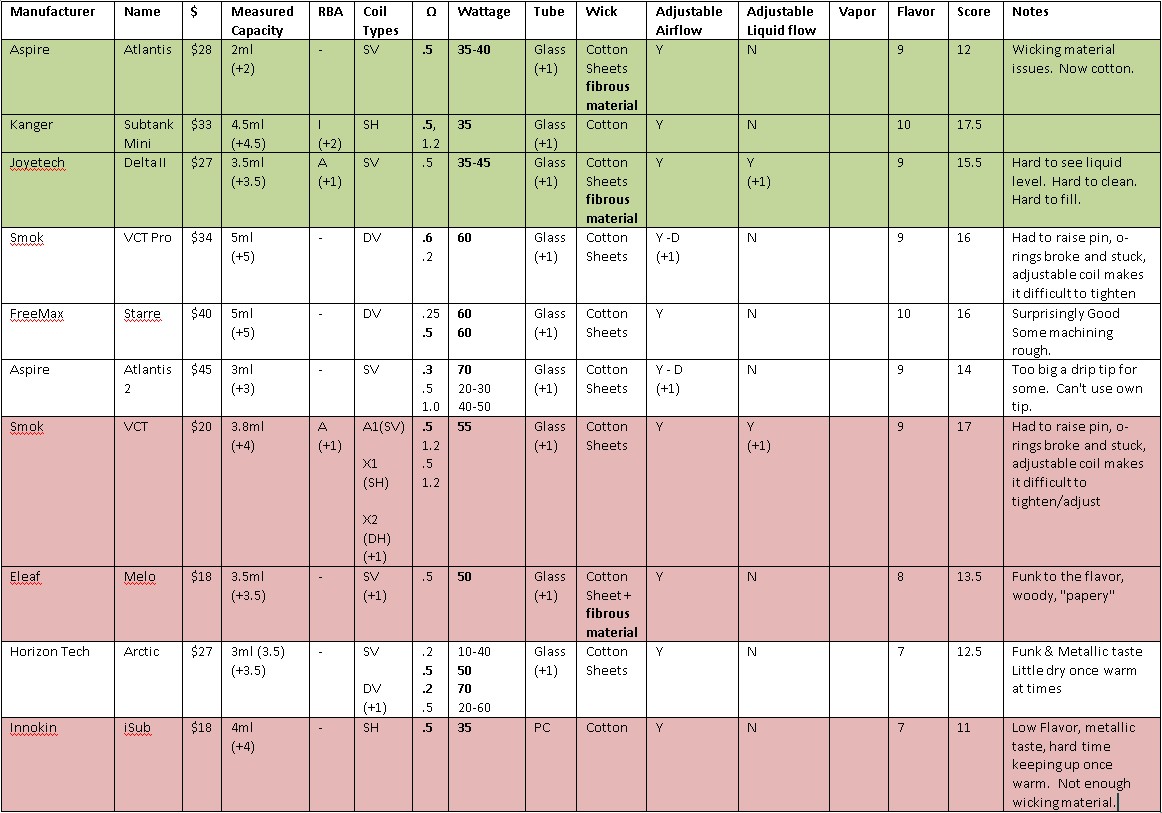 The Photos: