---
THE ARCTIC DOLPHIN ADONIS, A LITTLE ON VAPE SCOTTSDALE & A NEW CONTEST
A PBusardo Review – The Arctic Dolphin Adonis – A Little on Vape Scottsdale & A New Contest
In this video we talk a bit about the Vape Scottsdale Grand Opening, fully review the Arctic Dolphin Adonis, a mass produced stabilized wood mod from China, and kick off a new contest.
The Links:
Vape-Scottsdale
Vape Scottsdale Address: 10050 N.Scottsdale Rd. Suite #119, Scottsdale,Arizona 85253
528 Custom
Double R Mods Facebook Group
Arctic Dolphin
The Post-Review Follow-up:
4/19/16 – Some additional information on the unit that went bad.  1) it was a market version not prototype, 2) I opened it up to look for liquid… completely dry, 3) when it was opened, I looked for the jumper, it did not have one and  4) it was not opened prior to failure but went for a couple days before the failure started.
4/29/16 – The Adonis will be available for purchase mid-May.
4/29/16 – According to Arctic Dolphin is it firmware upgradeable, however… "It can be upgraded by a special upgrading cable with chip inside from distributor not the end users."
4/29/16 – It appears that you can now select the color:
As a matter of fact, the color is selective. People who want to select the color need to inform our distributors in advance. Here, we would like to offer the place for one of distributors in USA as below: 16760 Stagg Street Unit 212 Van Nuys CA 91406, tel: 818-216-7882. People can contact that distributor for color selection. We will pack 10pcs in a small box and 40pcs in a carton. 10pcs will be a unit. Our distributors will select color based on different unit. It means that distributors cannot select color one by one should select the color unit by unit. In future, we will customize the color, for example: customize the color for the stabilized wood and customize the color for the resin so the price and lead time will be different.

People are not restricted to purchase the quantity. Not only one on-line. Adonis, the frame material is aerospace aluminum, we only produce 3000pcs. Now all have been pre-ordered by our distributors. But we are making other two new models for 26650 battery and dual 18650 batteries stabilized wood box mod! 26650 battery mod will be 100 watt and dual 18650 batteries will be 210 watt. Now the samples are ready. Mass production will be shipped soon!
Here are some photos for you: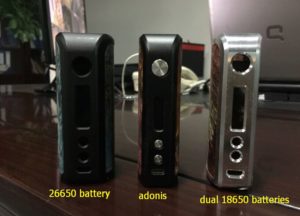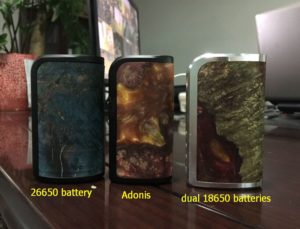 4/29/16 – Some additional information from them on their decision to include a setting for platinum:
Now people do not use platinum universally but our brand arctic dolphin is positioned in high-end market of vaping world so we want to try.

Platinum is good grade and the safest material. It will be loved and popular by more and more people in future.

Moreover, we will design a new tank with platinum coil in future too."

One more additional point for Platinum is that it is food grade and can be edible. That is the reason why we want to try for our mods.
5/3/16 – Regarding the small spark seen in the video:
When atomizer is connected to the 510 interface, probably there will be 0-20 milliseconds detection for the chip and the current will be up to 1.5A at most. There will be no input current once completing the detection. Our actual standby current is less than 30μA. As shown in the video, the screwdriver touched the positive and negative at the same time so the chip immediately detect whether a new atomizer connected or not and there will be the small spark.
The Video:

*NOTE: Any use of this video in part or in it's entirety without Phil Busardo's expressed written consent is strictly prohibited.
The Photos