---
WILL THE REAL KANGER T3 PLEASE STAND UP! I'M CRANKY!!!
Here's the deal.  My friend Maria on Facebook was having an issue with her T3 today.  She reported burnt taste and then after pulling the"top wick" she reported a bad plastic flavor.
A thread went on trying to help her, but she gave up saying, "Scratch that I give up tastes plastic now, back to carto tank ugh".
After having a stellar experience with the T3 in the Clearomizer Shootout, I just couldn't believe.  Tonight I planned on doing some serious side by side vaping between a carto tank, a Vivi Nova, and a T3 anyway, so I broke a new one open and filled it with juice.  I gave it some time to soak in and took my first drag, the very same way I did with the T3 in the Shootout.
I was BLOWN away by the first drag!  Horrible dry, scratchy hit and some of the worst plastic flavor I've ever experienced!  ANYONE who would have tried this clearo would think I was out of my F*CKING MIND giving that clearo top place in the shootout and rightfully so!
After taking a closer look, they are different!
The one of the left is the T3 used in the shootout and it came from LiteCigUSA, if you notice it has black lettering (as it does on their site) as well as a smooth interior to the mouthpiece.  It has two air holes in the base.  The measurements go from the bottom to the top only.  It had stellar performance.
The one on the right is a T3 that came from GotVapes.  It has white lettering on the tank (as it does on their site) and a ridge in the mouthpiece.  It has three air holes in the base.  The measurements go both ways from top to bottom and bottom to top.  It made me and a friend choke!
Does anyone know if these are two different clearos?  Which is the real Kanger?  Are they both Kangers?  What the hell is going on?
This is so frustrating to me because anyone who tried this clearo would think I was recommending GARBAGE and I won't let that happen!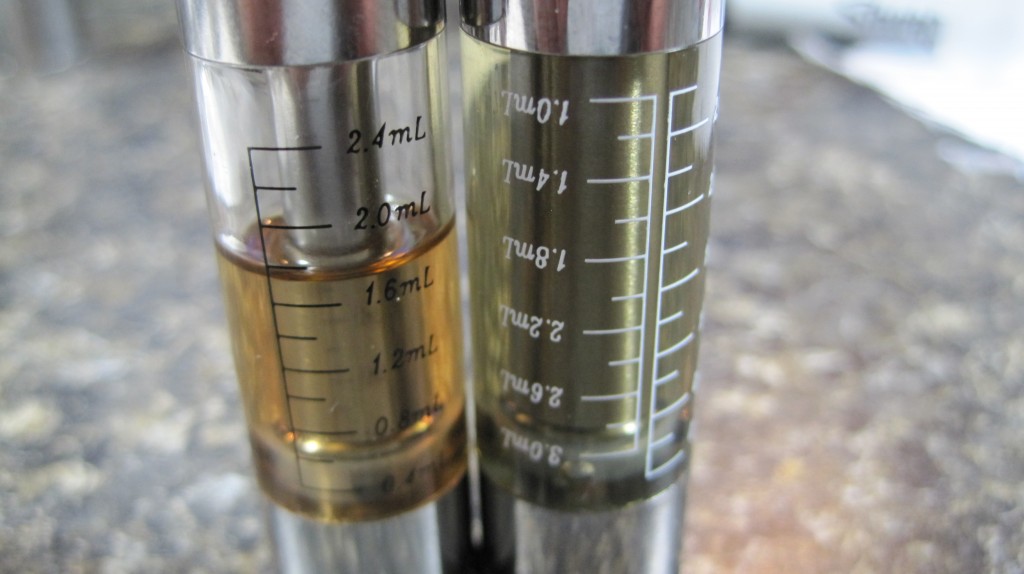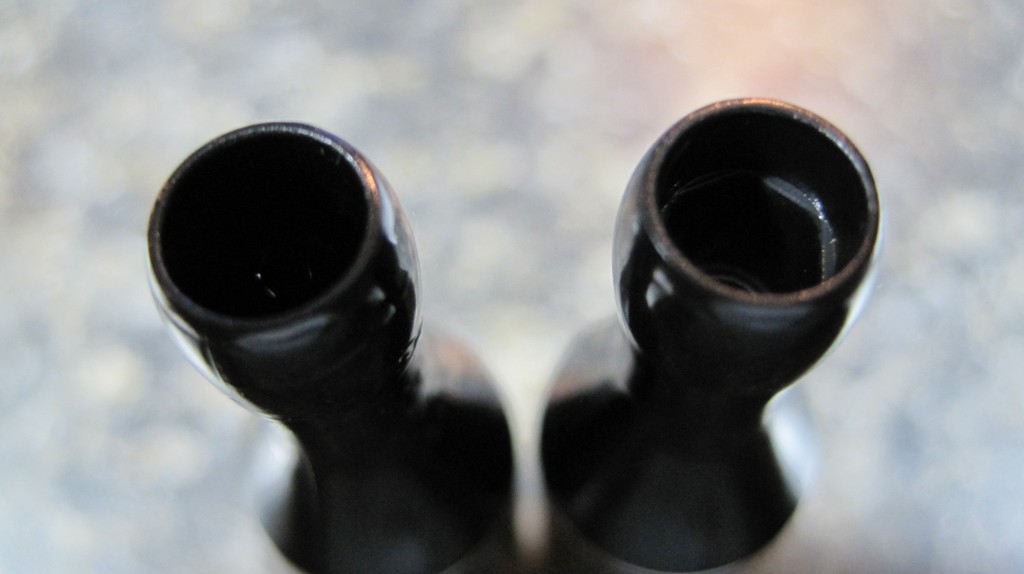 Post Post Follow-up (1/10/13):
First, please note that this is not an attempt to throw a vendor under the bus, but rather an attempt to get to the bottom of why one was sooo good and one was sooo bad.
Daniel from GotVapes contacted me and assured me that they have authentic Kangers, order directly from the Kanger factory and not an agent, and even provided me with his reps Skype address.  He said the printing was different (white) on the colored/tinted tanks for better contrast.  He said the latest iteration he received from Kanger had the change in the printing (up and down with the 3ml mark on the top) and the additional air hole.
I've heard from several people since the first post who have used the ones from GotVapes without issue, and some who didn't like them.  But then again, I've heard that about T3s from other vendors as well.
This may very well be very similar to the BogeGate issue.  Kanger gets a higher demand for the product, so they begin sourcing materials from other vendors.  They have to bring on more staff to build the things and thus tiny variations begin to occur.  These tiny variations lead to big differences in the vape experience.
After trying the both of these side by side, I can fully understand why some of you love them and some of you hate them.
I'm getting some new ones to try out.  I'm also going to tear these two apart to see if I can see any difference and post the results.  As I experience and hear more, I'll let you know.